静音运行功能+9档调速功能+电子记忆限位功能+轻触启动功能+停电手拉功能+遇阻停止功能+外接触摸开关功能+内置遥控功能+过温保护功能+电机独特上下装及隐藏式出线安装方式
Mute operation function +9 speed regulation function + electronic memory limit function + light touch start function + power cut pull function + stop function + external touch openClose function + built-in remote control function + over-temperature protection function + motor unique upper and lower mounting and hidden outgoing mounting method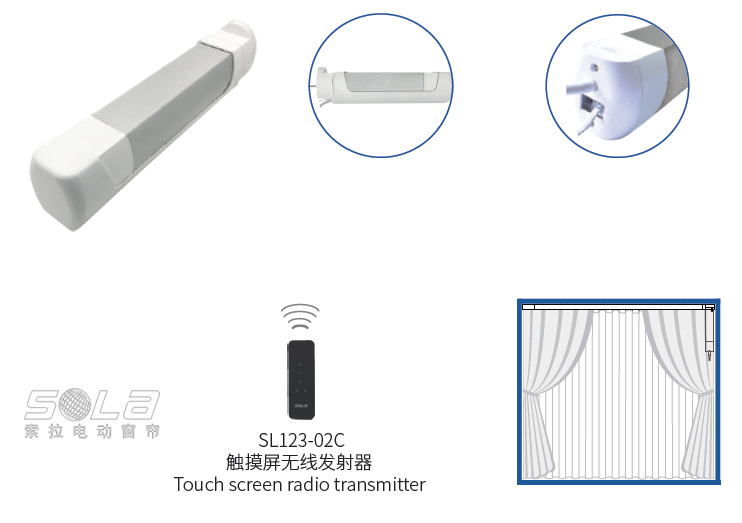 SOLA电机功能特点:
SOLA超強静音开合帘电机系统适用于高端国际酒店、公寓、办公楼、会所、舞台、别墅、天棚等严格要求场景的各类精品工程,提供灵活、稳定、可靠的装饰及遮阳解决方案;
适用范围:开合帘、平移帘、水波天棚帘等;
3项专利技术+13项优势功能:
1.专利技术:唯一9个档位设计,可根据窗户大小选档,实现同一区域空间不同窗户尺寸可同时开和合时间同步,
也可按个人喜好选择9种不同快慢速度,最高运行速度21.6cm/s;
2.专利技术:电机可选择倒立式隐藏电机安装,也可按常规顶装露出电机等两种安装方案;
3.专利技术:电机有隐藏式不露线出线方案,整体简洁大方;
突出优势功能:
1.静音运行功能:采用领先行业的齿轮技术,噪音低于35 dB;
2.可定制化控制:电机内置无线接收器,外接接收器可根据无线频段进行定制,个性化实足;
3.独特手拉功能:系统具有手拉即动功能和停电手拉功能;
4.中途限位功能:根据实际场景需求中途位置可设定限位;
5.缓启动、缓停止:在启动和停止过程中系统自带缓慢提速和减速功能;
6.系统运行稳定:行程具有自动矫正,行程到位无偏差,免人工维护;
7.电子记忆行程功能:无需人工设定行程限位,大大缩短调试时间,遇到停电后行程自动恢复;
8.遇阻停止功能:当滑车遇到阻力大于一定程度或卡住时,瞬间电流激增触发切断电源保护功能,有效防止帘布和电机损坏;
9.帘布反弹修正功能:窗帘收拢后会被挤压,反弹功能使得被挤压的面料释放,自然美观
10.过温保护功能:电机系统长时间高负荷运行时达到一定的温度值时,启动过温保护电机系统;
11.墙面开关控制:普通墙面控制开关、联动墙面开关遥控控制;
12.无线遥控功能:Sola开合帘电机具有遥控功能,可以通过遥控器遥控控制;
13.体育家居兼容功能:手机APP控制、酒店客控系统RCU、与Zigbee、Z wave、433、WIFI、RS485、KNX、EIB等兼容。
SOLA motor features:
SOLA super quiet opening and closing curtain motor system is applicable to high-end international hotels, apartments, office buildings, clubhouse, stage, villas, ceiling and other strictly required scenesType quality project, provide flexible, stable and reliable decoration and sunshade solutionScope of application: open and close curtains, translation curtains, water wave ceiling curtains, etc.
3 patented technologies +13 advantageous functions:
1. Patented technology: the only 9 gears can be designed, and the gears can be selected according to thewindow size, so that different window sizes in the same area can be opened and synchronized simultaneously.You can also choose 9 different speeds according to your preferences, with the highest running speed of 21.6cm/s.
2. Patented technology: the motor can be installed with inverted concealed motor, or it can be installed with open-top motor according to the conventional installation plan;
3. Patent technology: the motor has a hidden cable-out scheme, which is simple and generous as a whole;Prominent advantages:
1. Silent operation function: adopt the gear technology of the leading industry and the noise is lower than 35 dB;
2. Customizable control: the motor has a built-in wireless receiver, and the external receiver can be customized according to the wireless frequency band.
3. Unique hand-pull function: the system has hand-pull function and power-cut hand-pull function;
4. Stop-stop function: the stop-stop can be set according to the actual situation;
5. Slow start and stop: the system is equipped with slow speed up and slow down functions during start and stop.
6. Stable operation of the system: the stroke is automatically corrected, the stroke is in place without deviation and manual maintenance;
7. Electronic memory trip function: no manual setting of travel limit, greatly shortening the debugging time, and the trip will be restored automatically after power failure;
8. Stop stop function: when the pulley meets resistance greater than a certain degree or is stuck, the sudden surge of current triggers the power cut protection function, effectively preventing the curtainAnd motor damage;
9. Rebound correction function of curtain fabric: after the curtain is closed, it will be squeezed. The rebound function enables the compressed fabric to release, natural and beautiful
10. Over-temperature protection function: when the motor system reaches a certain temperature value when running under high load for a long time, start the over-temperature protection motor system;
11. Metope switch control: ordinary metope control switch, linkage metope switch remote control;
12. Wireless remote control function: Sola open and close curtain motor has remote control function, which can be controlled by remote control;
13. Compatible functions of smart home: mobile APP control, RCU of hotel guest control system, and compatibility with Zigbee, Z wave, 433, WIFI, RS485, KNX, EIB, etc.


控制系统优势:
1、完美兼容性强;
2、弱电供电终端;
3、有墙面开关及遥控开关两种体育控制方式;
4、以稳定优越的性能满足不同的环境使用需要;
5、开关为100%的原装进口配套产品;
6、与物联网体育化家居系统同步,可通过体育手机;
(如iphone手机、安卓系统手机等)及平板电脑(如ipad)控制任何场景。
Advantages of control system:
1.Perfect compatibility;
2.weak current power supply terminal;
3.two kinds of smart control modes(wall switch and remote control);
4.Stable and excellent performance to meet the needs of different environments;
5.100% imported original switch accessories;
6.Co-gradient with smart home IOT systems, available to control any scene modes by mart phone (such as iphone, Android system phone) and table PCs(such as ipad).


SOLA导轨:
1.航空铝型材,表面电泳工艺处理;
2.电机可采用顶装和倒立装;
3.轨道无缝拼接(轨道拼接处隐藏式插针);
4.不拆卸式增减走珠;
5.安装码可明装或暗装;
6.传动箱:PC料,耐酸、强度高,韧性好,抗氧化,表面光滑;
7.皮带:拉力强度大,耐磨、长时间受力拉伸不变形;
8.滑车:304不锈钢材质,强度大,滑车上带有滚轮,系统运行稳定 耐磨 顺畅;
9.走珠:走珠材质本身具有自润滑功能,运行顺畅,同时,采用卡扣设计,走珠拆卸容易,方便拆装布帘清洗。
SOLAguide:
1. Air aluminum profile, surface electrophoresis processing;
2. Top mounting and inverted mounting can be used for the motor;
3. Seamless joint of track (hidden pin at the joint of track);
4. Increase and decrease of beads without disassembly;
5. The installation code can be mounted or concealed;
6. Transmission box: PC material, high acid resistance, strength, toughness, oxidation resistance, smooth surface;
7. Belt: high tensile strength, wear-resistant, long-term tensile strength and deformation;
8. Pulley: 304 stainless steel, strong, with roller on the pulley, stable and wear-resistant;
9. Walking bead: the walking bead material itself has the function of self-lubrication, which runs smoothly. At the same time, it adopts the clasp design, which makes it easy to remove and disassemble the cloth curtain for cleaning.